Our Next Concert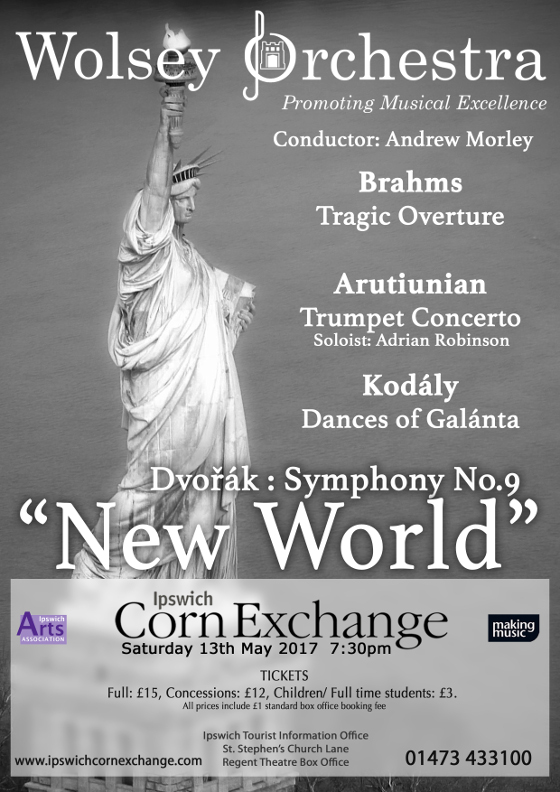 Saturday 13th May 2017 at 7:30pm
The Corn Exchange, Ipswich
Conductor - Andrew Morley
Guest Leader - Helen Stanley
Trumpet - Adrian Robinson
Brahms:
Tragic Overture
Arutiunian:
Trumpet Concerto
Kodály:
Dances of Galánta
Dvořák:
Symphony No.9 ("From the New World")
The last in our season of concerts will feature Dvořák's New World Symphony – surely one of the most popular symphonies in the whole orchestral repertoire. Written during his 4 year stay in America and heavily influenced by African-American spiritual music and by the wide open spaces of the Prairies, this symphony epitomizes Dvořák's fascination with the native music and culture of North America. Likewise Arutiunian and Kodály were both inspired by, and strong advocates of, folk music in their native Armenia and Slovakia respectively. Much of Kodály's Dances of Galánta is based on actual folk music of Galánta – a small town now part of Slovakia - where Kodaly lived for a number of years. Arutiunian's Trumpet concerto is full of the melodic and rhythmic characteristics of Armenian folk music, but, as with Dvořák's Symphony, all the melodic material is original. The orchestra is proud to present our own Adrian Robinson to perform what has become one of the most popular concertos in the trumpet player's repertoire. And to open what promises to be an outstanding evening of symphonic music the orchestra will perform Brahms' Tragic Overture.
Tickets are available now from the
Regent Theatre Box Office
, 3 St. Helens Street, Ipswich, IP4 1HE (Tel: 01473 433100), and from the Ipswich Tourist Information Office, St. Stephens Church, St. Stephens Lane, Ipswich, IP1 1DP.
Adults £15.00, Concessions £12.00, Children/Fulltime Students £3.00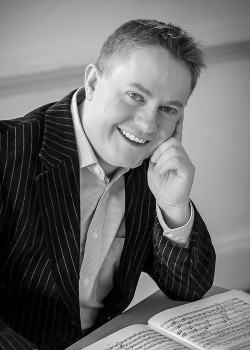 Andrew Morley
Conductor May 2017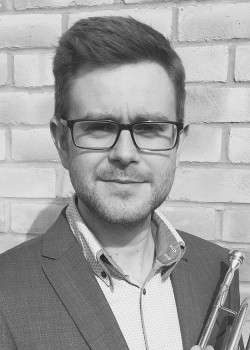 Adrian Robinson
Soloist May 2017
Helen Stanley
Guest Leader May 2017