Our Next Concert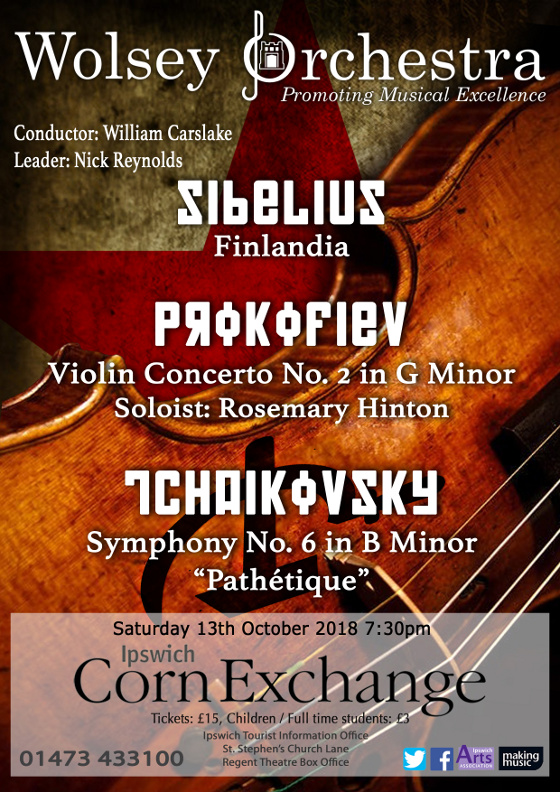 Saturday 13th October 2018 at 7:30pm
The Corn Exchange, Ipswich
Conductor - William Carslake
Leader - Nick Reynolds
Soloist - Rosemary Hinton
Sibelius:
Finlandia, Op.26
Prokofiev:
Violin Concerto No.2 in G minor, Op.63
Tchaikovsky:
Symphony No.6 in B minor, Op.74, "Pathétique"
For the first concert of our 2018-2019 season, the Wolsey Orchestra has chosen to present an evening of music with a distinctly Russian theme - featuring one of Tchaikovsky's most powerful works together with the delightful second violin concerto by Prokofiev for which we are delighted to welcome back local violinist Rosemary Hinton.
Tchaikovsky completed the score for his Symphony Pathétique in the late summer of 1893 and conducted its first performance in St. Petersburg in October that same year (almost exactly 125 years ago!), only a matter of days before his death from cholera. Much has been made over the years as to whether Tchaikovsky knew he was about to die and whether the symphony contained hidden references to his impending demise. But it is mere speculation - "Fake-news" is nothing new! Prokofiev was born in 1891 and studied in St. Petersburg with Glazunov and Rimsky-Korsakov among others. Soon after the end of the First World War, he decided to emigrate to the West where he enjoyed some success as a composer, conductor and pianist. His second violin concerto was written in 1935 around the same time as many of his most famous works such as Romeo and Juliet, Lieutenant Kije, and Peter & the Wolf. But with an increasing disillusionment from constant touring and performing for a living, he returned the following year to his native Russia. So where is the Russian connection in the opening work in this concert? If there is one piece of music that reflects Finnish nationalism and Finnish self-belief it is surely Sibelius' Finlandia. But that is exactly it - Finlandia was written as a (covert) protest against the increasing repression and censorship of the Finnish people from the Russian Empire.
---
Tickets are available now from the
Regent Theatre Box Office
, St. Helen's Street, Ipswich IP4 1HE (Tel: 01473 433100), and from the Ipswich Tourist Information Office, St. Stephens Church, St. Stephens Lane, Ipswich IP1 1DP.
Adults £15.00, Children / Full-time Students £3.00
(a booking fee of £1.00 is included in these ticket prices)
---
Future Concerts
Saturday 9th February 2019 at 7:30pm
The APEX, Bury St. Edmunds
Conductor - Andrew Morley
Leader - Nick Reynolds
Walton:
Orb & Sceptre
Butterworth:
A Shropshire Lad, Op.105
Holst:
Beni Mora
Vaughan Williams:
Symphony No.2, "London"
* * * *
Saturday 18th May 2019 at 7:30pm
The Corn Exchange, Ipswich
Conductor - Andrew Morley
Leader - Nick Reynolds
Soloist - Erdem Misirlioğlu
Weber:
Overture: Oberon
Schumann:
Piano Concerto in A minor, Op.54
Borodin:
In the Steppes of Central Asia
Borodin:
Symphony No.2 in B minor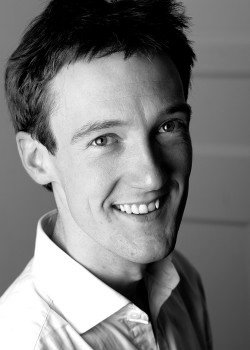 William Carslake
Conductor October 2018
Rosemary Hinton
Soloist October 2018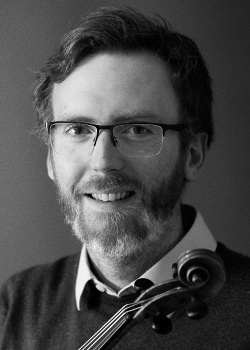 Nick Reynolds
Leader October 2018