Our Next Concert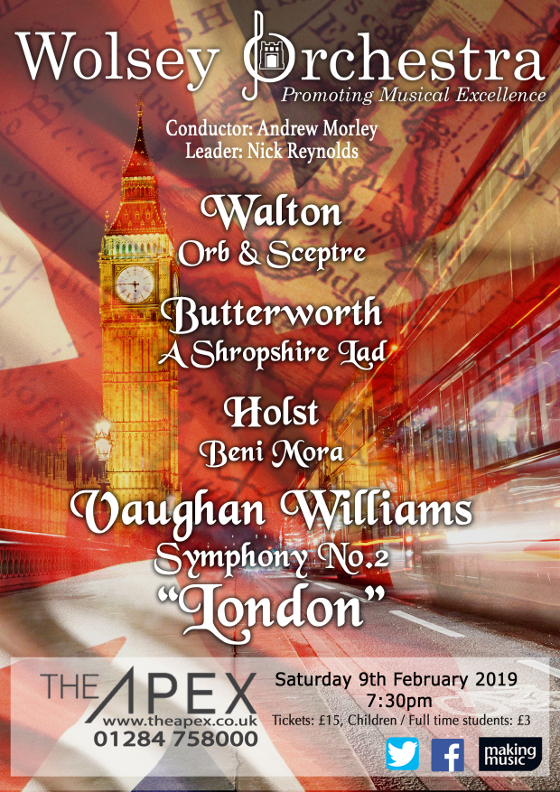 Saturday 9th February 2019 at 7:30pm
The APEX, Bury St. Edmunds
Conductor - Andrew Morley
Leader - Nick Reynolds
Walton:
Orb & Sceptre
Butterworth:
A Shropshire Lad, Op.105
Holst:
Beni Mora
Vaughan Williams:
Symphony No.2, "London"
For this year's concert at the APEX, the Wolsey Orchestra is delighted to present a programme of music by English composers. Ralph Vaughan Williams composed his London Symphony a year or so before the outbreak of the first World War, although it went through a couple of revisions before reaching the final version that we're familiar with in the concert hall today. It is dedicated to his friend, and fellow composer, George Butterworth who had strongly encouraged Vaughan Williams to compose a purely orchestral symphony and who was tragically killed during WWI. It is therefore fitting that in the first half of our concert the orchestra will perform George Butterworth's most famous orchestral work, A Shropshire Lad - based upon a collection of poems of the same name by A E Houseman. Although much of Holst's music is very "English", his suite Beni Mora, also composed just before the outbreak of WWI, has a distinctly Middle Eastern feel to it, no doubt inspired by the music Holst had encountered during a holiday to Algeria in 1908. The orchestra will open the concert with Walton's rousing march Orb & Sceptre - written nearly 40 years later than the rest music in the concert - to celebrate the coronation of Queen Elizabeth II.
---
Tickets are available now from the
APEX Box Office
,
1 Charter Square, Bury St. Edmunds IP33 3FD (Tel: 01284 758000).
Adults £15.00, Children / Full-time Students £3.00
---
Future Concerts
Saturday 18th May 2019 at 7:30pm
The Corn Exchange, Ipswich
Conductor - Andrew Morley
Leader - Nick Reynolds
Soloist - Erdem Misirlioğlu
Weber:
Overture: Oberon
Schumann:
Piano Concerto in A minor, Op.54
Borodin:
In the Steppes of Central Asia
Borodin:
Symphony No.2 in B minor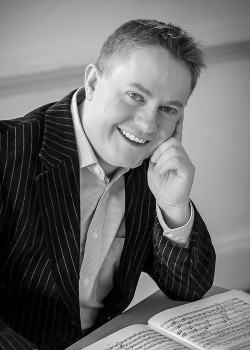 Andrew Morley
Conductor February 2019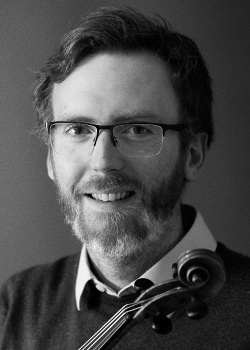 Nick Reynolds
Leader February 2019